Description
Space-Saving, Two-Piece Configuration
The IC-M400BBE consists of a two-piece, black box configuration. All function control including DSC operation, can be made from the CommandMic™, HM-195B, and the RF unit, IC-M400BBE, can be installed in an out-of-sight place.
New Intuitive User Interface
The new menu system is shared with Icom's latest models. The bottom line of the dot-matrix display shows the software key functions which can be toggled with the left and right buttons.
Active Noise Cancelling
The built-in bidirectional active noise cancelling reduces background noise to up to 90% and improves both your transmitted voice and incoming call. Hear and be heard more clearly.
10 W Loud Audio, Public Address and Foghorn
The IC-M400BBE has a built-in 10 W amplifier that increases the audio output from an additional external speaker. The public address function allows you to make an announcement from the microphone like a loud speaker, and the foghorn can also be emitted from the external speaker.
Built-in Class D DSC
The built-in DSC watch function monitors Ch. 70 (DSC channel) activity, even while you are receiving another channel. DSC functions include: distress, individual, group, all ships, urgency, safety, position request/report, polling request and DSC test calls.
Built-in GNSS Receiver
A GNSS antenna is supplied with the IC-M400BBE.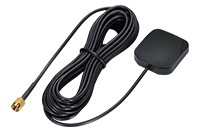 Common NMEA Interface
When connected to an external GPS receiver, current position and time are shown on the CommandMic display. When receiving DSC information from another vessel, the radio can transfer it to a navigational device via NMEA 0183 connectivity.
AIS Target Call with MA-510TR/MA-500TR
When connected to the optional MA-510TR/MA-500TR Class B AIS transponder, the AIS target call function allows you to set up an individual DSC call from the MA-510TR/MA-500TR.
Other Features
AquaQuake™ water draining function (HM-195B) | IPX7 waterproof protection both for IC-M400BBE and HM-195B (1 m depth for 30 minutes) | Dual/tri-watch function for monitoring Ch.16 and/or call channel | Priority and normal scan | MMSI code can be entered by end user (one time), ATIS-ID programming has to be activated by the dealer first
Registration / reference number. the Federal Network Agency
On the basis of changed European regulations, no allocation of such numbers by the competent national authority takes place any more. However, as usual, you can rely on our products to comply with European directives. The individual, boat-related registration of your radio device please contact the Federal Network Agency or your national authority.
Further information can be found in the download area