Description
LTE radio application for business customers
This application is a service for business customers. Individual contracts are not allowed. Also, you cannot use it just by installing it, you need to set up a login account at an Icom distributor. Please contact your PMR-distributor for more information.
You can install it on your smartphone and talk to LTE radios
The IP500APP is a PTT application that can communicate with Icom LTE radios such as the IP501H, IP503H and IP501M. By installing this application on your smartphone, you can get almost the same functions as with Icom LTE radios.
Radio terminal or application, use either one according to your needs
For field workers who frequently exchange information and need immediate response, LTE radio terminals are suitable since they can be used easily and quickly. For managers who need communication only when giving instructions or understanding situations, the IP500APP installed on a smartphone may be suitable. By using either one of them, according to your needs, you can use the LTE radio system more conveniently.
Full-duplex and multiple user communications
Icom's LTE radio on both radio terminals, and the P500APP application, supports full-duplex communication, just like a mobile phone. It enables smooth telephone style conversations. It also supports multiple user communication by a large number of people, and can be used for telephone conferences. In case of an emergency, you can break into an on-going call to transmit an important message.
Equipped with almost the same functions as an LTE radio
Supports Individual, Group and All calls. In Group calls, one terminal can belong to multiple groups, so flexible operation is possible. In addition, you can have almost the same functions as the LTE radio, such as recording/playback functions and send/receive for preset text messaging.
Expandable communications with various radio systems and protocols
Installing an optional VE-PG4 RoIP gateway enables you to interconnect with various communication systems such as digital, analog radios, and IP phones, in addition to LTE radios.
Operating environments
Android™: 8.0 or later
iOS™: 12 or later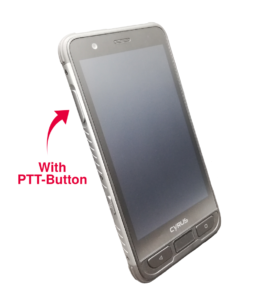 *Operation is not guaranteed on all Android or iOS devices.
Also, it may not work, depending on the OS version or installed applications.
Authentication
This application cannot be used just by installing it.
At the first startup, login settings are required. Please contact your distributor for more information.
Advantage with Cyrus CS45 XA smartphone
The IP500APP works especially well with the Cyrus CS45 XA smartphone.
With its equipped PTT button on the side of CS45 XA, it makes for easy & quick PTT operation just like normal radios, without opening the screen each time you speak.
For further information, please contact your PMR-distributor.