IC-M73EURO/PLUS
Slim, Stylish, Powerful VHF with Professional Features
VHF marine handheld radio with professional features!

Description
The IC-M73EURO replaces the former IC-M71, which has always impressed professional users in terms of high NF performance, rugged housing, proven reliability, water resistance and compactness. In addition, the IC-M73EURO offers you (in the "PLUS" version) such interesting features as an Active Noise-Canceller function, to improve the voice quality and a Last Call Voice Recording to save the last incoming call.
Last Call Voice Recording(with "PLUS" version)
The last call voice recording function automatically saves the last incoming call for 1 minute. You can also start recording manually. You will not miss an important call.
Active Noise Cancelling Technology (with "PLUS" version)
The built-in bidirectional active noise cancelling reduces background noise to up to 90% and improves both your transmitted voice and incoming call. You will hear better and clearer! (Funktionsvideo…)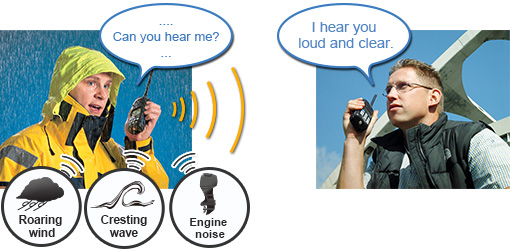 Whether engine noise, the roar of the wind or breaking waves, Icom's noise canceling technology removes digital background noise and ensures a clear transmission of your voice. Active Noise Canceling also enhances incoming signals by improving the voice quality as a result of DSP rendering.

DSP Processing image
Bass Boost Function
The signal processing technology emphasizes low-pitched sound to provide a rich bass sound for both transmit and receive signals.
700mW Loud Audio
The IC-M73EURO uses a BTL (bridgetied load) amplifier that doubles the audio output. Its internal speaker delivers a loud 700mW audio output with clear sound.
6W RF Output Power
The IC-M73EURO's 6 Watts*1 of transmit power will provide extended communication range for the user. A large capacity Lithium-Ion battery, BP-245H allows for 17 hours of operation, under normal conditions*2.
*1 1W for FRG version, 5W for AUS version.
*2 Typical operation with 5:5:90 duty ratio. 20 hours for basic version.

IPX8 Advanced Waterproofing
The IC-M73EURO continues to offer Icom's best waterproof protection. The radio has been tested to survive after being submersed in 1.5m (4.9ft) depth of water for 30 minutes.
Slim, Hourglass Body Wide Viewing Angle LCD
The IC-M73EURO has a stylish, ergonomic design. A durable and rugged body provides for user-friendly operation and long life. A wide viewing angle, high intensity LCD offers bright, easy to read characters.
Additional functions
AquaQuake™ water draining function
Dual/Tri-Watch function* for monitoring Channel 16 and/or call channel
4 level battery indicator
Favorite channel and tag scan functions
Optional waterproof speaker-microphones, HM-167 and HM-202
Rapid charger BC-210 supplied
Auto power save function
Basic version (no voice recorder, no noise canceller and no bass boost function) available for limited markets.
Supports new four-digit marine channels effective from January 1st, 2017
* Not available in the HOL version.
Supplied accessories
BP-245H – Li-Ion Battery Pack 7.2V / 2150mAh (min.), 2200mAh (typ.)
BC-210 – Fast Charger (charges the BP-245H in about 2.5 hours)
BC-123SE – power supply
MB-103 – Belt clip
FA-S64V – Antenna (115mm)
Optional accessories
BC-197 # 33 – 6-fold multiple loader incl. Charging adapter AD-129 and power supply BC-157S
CP-25H – Cigarette lighter cable for use with BC-210
HM-167 – Robust Speaker Microphone (IPX8)
HM-202 – Compact Speaker Microphone (IPX7)
Registration / reference number. the Federal Network Agency
The IC-M73EURO is registered with the Federal Network Agency under the registration / reference number: 8185001
Further information can be found in the download area